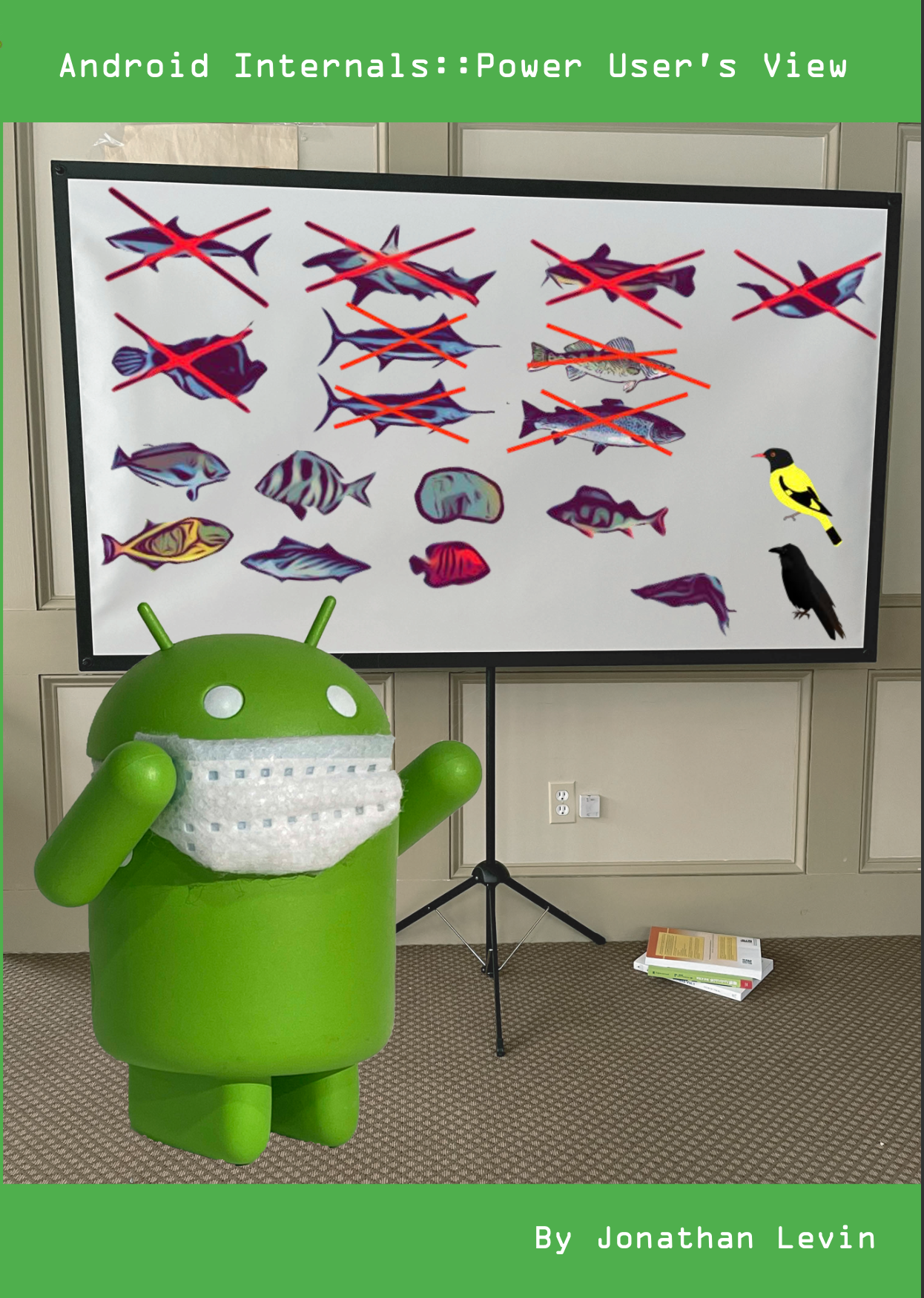 Jan 20th (2022) UPDATE:
Pre-orders open and an important announcement! Read here
Nov 10th (2021) UPDATE:
Volume I is now in v2.1 - fully in sync with Android 12 (per the Pixel 6). Meanwhile, work on Volume II is nearing the finish line, but the finish line has moved a bit further with more features to cover...
---
Jan 18th (2021) UPDATE:
Happy New Year!
The second edition of Android Internals is now officially live! The new and improved volume I is now on sale (just six years later ;-) Added well over 240 pages from previous edition (effectively, double size), with expansive coverage for filesystems/storage, slots/update_engine/apex, logging, power mgmt, and a hardware primer noting BSP/vendor differences
---
If you email me, note that GMail classifies my replies as spam. I do answer - so check your spam foldr every now and then..
---
THERE IS NO eBOOK available. To understand why, read here. Sorry. At least I print on recycled and eco-friendly paper.
---
To order: email - confectioners@(this domain) and choose method:
Amazon: Domestic only, $99.99, please use this link so AMZN pays me back a little of their exorbitant commissions..
Int'l: $135 over Paypal (commissions and shipping :(
Int'l BTC: 0.005 BTC (subject to fluctuations, right now it's ~$125 so fair)
---
Volume 2 to follow soon (really, this time). Also far greater than the original (and forever delayed) plan, with a strong focus on hardware (HAL implementations) and Android 10, 11 and 12 features.
Volume 3 (yep!) dealing exclusively with security to arrive sometime around mid-year. Jury's still out if I follow the model of MOXiI 3 and show I will be discussing actual (but naturallly patched) exploits. If you have any good Android malware samples, though, that's a shoe-in for inclusion, so please share!
Meanwhile, you might want to check out the Table of Contents, as well as updates I've made to jtrace, imjtool, and the slowly expanding Android Device Database. I've also started a changelog.